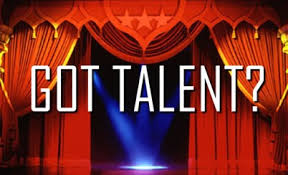 FSP's Got Talent!!
This year our community Talent show will take place this Spring – new date February 22, 2019 7:00 to 9:00pm in the Edwards Room here at CLC.  Bring snacks to share!
HOW CAN YOU BE A PART?
Figure out what your gifts are. We aren't looking for a "new hobby," but for something that you are already amazing at.
Groups are awesome! They allow us to see more of you, and your creative ideas!  Find your friends and show us what you've got!  Individual performances are welcomed.  Come up with a name for your group or talent.
When practicing keep these rules in mind:

Individuals are allotted 1-2 minutes per performance
Groups get 3-4 minutes
SET UP IS INCLUDED IN YOUR ALOTTED TIME!
Choose edifying music
-Pick appropriate attire for your show

If using pre-recorded music, we will need it by March 16th preferably in digital form.
Please register through the sign up link to be a part of the talent show. We'd love to see many people participating in this event!
Bring a refreshment to "sell" at the show. All proceeds will go to FSP.
THIS IS NOT A COMPETITION!!!
All participants' names will be entered into a raffle.
Some suggested talent ideas may be, but are not limited to, musical talents (singing, dancing, instruments, etc.), stand up comic and sports (yoyo, pogo stick, juggling, etc.).
Excited to see what you bring to the stage,
Candy, Janet and Sommer